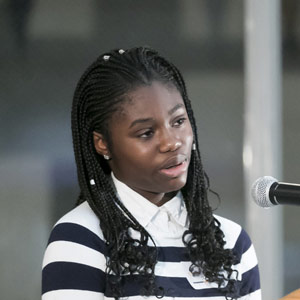 My Math Story and Identity
Angel, Murray Hill MS, Class of 2022
Angel is an 8th grade student at Murray Hill Middle School who shares her journey to discovering her own math identity.
Video Transcript
My name is Angel and I was born in Virginia. I lived there until I was 3. Then my Mom and I moved to Nigeria to live with her family in pre-kindergarten. I attended school in Nigeria until 5th grade. School in Nigeria was very different. It was very strict in a good way. The school taught me important lesson like respect and how to treat people who are younger and older than you. One time, when I was talking and the teacher was talking and I was disciplined. I will never forget this lesson and it taught me about respecting others. I remember learning a dance for a big graduation ceremony and I felt so happy. When my grandmother died, we had to move back to the United States. So we moved to PG County schools for 5th through 7th grade. In the middle of 7th grade I moved to Howard County and this year I am in Ms. Schaefer's math class and we did the StoryStrong math curriculum. I want to share with you today how this has helped me think more about how I feel about math. Knowing how I feel about math is important because it has helped me feel even more confident about what I want to do for my career.
I am now confident I can do this career because I know I can do the math needed to be an engineer or a scientist.
The StoryStrong math curriculum is all about your math identity. Your math identity is how you feel about math and it matters because if you believe you can get better at math you will. At the beginning of the year, I was really nervous because I didn't think I was good at math. I didn't understand what we were learning about but this year it got better. I learned this year that asking questions is important. When we are all brave enough to ask questions in class it helps one another.
From doing this curriculum, I learned that I do like math. It can be hard but asking questions is important to understand. My advice to other students going into 8th grade math is to be patient, ask questions because it will only get harder, and math is so important in your life. No matter what job you do in the future, it will be important in your everyday life.
I liked this math curriculum because my teacher takes the time to explain things. She helps us feel confident about asking questions. We know that we can ask something and it might even help someone else in class who is afraid. My classmates have really helped me this year. I was able to ask my classmates questions this year and this makes me feel happy because we're helping one another and care about how one another does in class.
One memory from this year is when we made books about how we felt about math.
For instance, I wrote about getting A's and B's in class. When I had to choose an image of myself in math class, I chose a picture of woman who looked confused but still understanding somewhat. Sometimes in math class, things are hard and you need a little help. Sometimes in math class I'm afraid to ask a question because I worry it might be stupid. But I still raise my hand because my grades matter to me and I want to understand. We also thought about how we see ourselves in high school. I am nervous about high school because I know it's going to be harder and there will be lots of new people.
I want my high school teachers to know:
I want to be an engineer and a scientist.
I love superhero shows. I love "DC Legends of Tomorrow".
I am very competitive sometimes.
And sometimes I really need help and I feel confused.
From math this year, I always want to remember how proud i feel when I answer questions. At the beginning of this year, I was really nervous about math. And I'm still nervous about math but I'm learning that it gets better.
Related Stories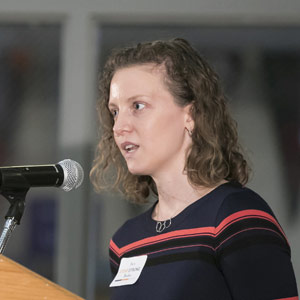 Why I Share My Story
Molly, Math Teacher - Murray Hill MS
Molly has used StoryStrong Math for both reflecting deeply on herself but also in working with her students.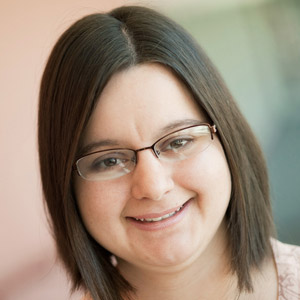 My Journey to Becoming a Teacher-Scientist
Brittany Franckowiak, Science Teacher, Wilde Lake High School
Becoming a scientist came relatively easy for Ms. Franckowiak. Becoming a teacher-scientist was a much greater challenge. Experience the journey she took to the classroom where she found she had always belonged.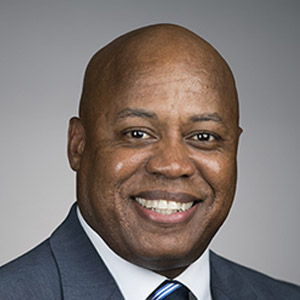 Two People Who Changed My Path
James LeMon, Executive Director of Community, Parent and School Outreach
From a cafeteria worker to a football coach, you never know who will be that person that will impact a child and change their lives.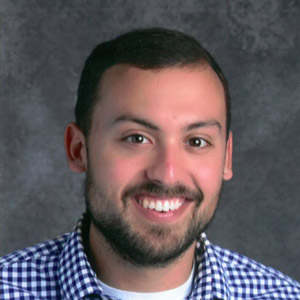 Teaching is More Than a Job, It's a Calling
Niklas Berry, Social Studies Teacher, Oakland Mills HS
Growing up in multiple cultures, Mr. Berry's students left him wondering if he chose to be a teacher or if there were deeper cultural reasons for his choice profession.