I love working with children! My passion is to work with children and young adults from birth to 21 years of age as a pediatric physical therapist. Throughout my career, starting in the NYC public schools to Kennedy Krieger Institute, University of Maryland and HCPSS, I have helped children/students of various abilities. I strive for students to achieve independence and success in navigating their school environment and beyond. In my current role as the Program Head of Physical Therapy, I build the capacity of the countywide physical therapists to value, connect & empower the children/students and families we serve to achieve functional mobility goals and full accessibility.
A student and her mother who truly influenced me are Regina & Colette Jackson.
I met Regina my first year in HCPSS, almost 15 years ago. Regina has cerebral palsy, specifically spastic diplegia. Despite her physical limitations, she has persevered! During her elementary school years, I remember working on walking with an assistive device and the goal of moving more independently from one classroom to another, increasing her endurance and speed. Regina, being a curious child, would be very much interested in what was going on in the hallways rather than the task at hand – walking down the hallway toward her destination. With this curiosity, the tradeoff was increased time to get to where she needed to be in school. The teacher, parent and I knew that Regina was capable of accessing other means to get around from different points of the school in a more efficient manner, with the idea of power mobility as a possibility. Since the team, including the teacher, staff and mom were "on board" with trialing the use of a power wheelchair, we introduced use of a joystick operated powered wheelchair.
Given time and practice, she has since progressed to using power mobility as a primary means to navigate her school environment.
During this trial period, it took a lot of collaboration with mom, Regina, the equipment vendor and staff to determine the right type of power mobility for her to use not only in school, but out in the community. In addition to exploring power mobility, Regina has made such huge gains walking with her rolling walker and moving throughout her day with supervision. She has had several orthopedic surgeries along the way that required physical therapy input and collaboration with mom and the medical team to ensure that she continued to make progress with her functional mobility goals.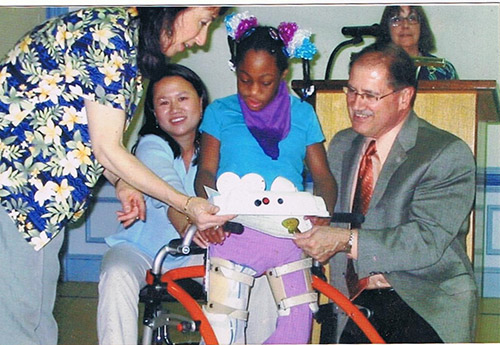 I strongly believe that working closely with Regina, mom, staff and other partners invested in Regina's well-being has provided a truly meaningful relationship built on mutual respect and trust in doing the very best for Team Regina! I've learned many lessons from her and her mother:
importance of connection and building relationships;
collaboration with student and family to being "key" to programmatic success;
partnering with families to advocate for students re: access to outside resources.
I feel truly blessed to have met Regina and Ms. Colette and I look forward to seeing Regina walk down the aisle during her Graduation in May 2018 at Cedar Lane School!